As much as I always enjoy attending REAL World (and this year was no exception), it's always good to be back home again.
Today was a good day. We woke up early so the kids could find their Easter baskets, then headed to church for an early worship team practice (couldn't practice earlier in the week since I was in Texas). Then lunch at Jen's parents' house followed by dinner at my sister's, with all the requisite egg hunts and gift-giving therein.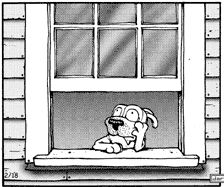 After we got home, our realtor stopped by so we could sign the papers to finalize the sale of our current home. What a weird feeling. I always thought I'd be in this house for the rest of my life, but I guess that wasn't in the cards.
Yep, it's official: the Rhines are moving. Not far, only about fifteen minutes away, but it'll be a different town and a different school district, so there will definitely be some adjustments to be made. We've been looking on and off for a couple years now, but never found the house that really just "grabbed" us until a couple weeks ago. It's a half acre out in the country, but just a few minutes away from civilization. There are horses in the field behind our new home. And we'll have a lot more space, which we need.
Now that the adoption's done, I guess we just needed something else to fill the stress-void that was left.