CBS News: Joe Barbera, half of the Hanna-Barbera animation team that produced such beloved cartoon characters as Tom and Jerry, Yogi Bear and the Flintstones, died Monday, a Warner Bros. spokesman said. He was 95.
As Snagglepuss would say, "Exit, stage left."
May he rest in peace. His partner Hanna passed away in 2001.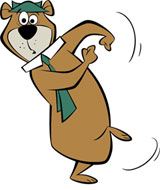 Grace just watched her first episode of Yogi Bear not three days ago, and she thought it was really cool. And she's now discovering how great some of the old Hanna-Barbera cartoons were, especially since Cartoon Network owns the rights to them.
She discovered The Flintstones on her own, when Fred showed up on an episode of The Grim Adventures of Billy & Mandy, which I have to admit is a pretty funny show.
But it can't compare to the classics like Huckleberry Hound, The Great Grape Ape, Quick McGraw, Jabberjaw, Scooby Doo, The Jetsons, Magilla Gorilla, Jonny Quest, and of course, the venerable Hong Kong Phooey (number one super guy).
So this is the end of an era. Of course, things haven't been the same since Bill Hanna died, but this seals the deal. The future of these classics is now in the hands of Cartoon Network.
From the article: The team's cartoons spanned "the Stone Age to the Space Age and from primetime to Saturday mornings, syndication and cable," Meyer said. "While he will be missed by his family and friends, (Barbera) will live on through his work."
Yep, Snagglepuss said it best: Exit, stage left.