The basement is, as the title of this post implies, almost finished. The carpet was installed two days ago. We've been working on it for about a month and a half now. All that's left is some trim and a couple door fittings.
Here's the best part.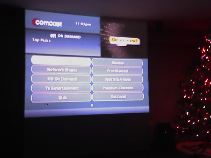 Click for larger image.
Yay! I finally have a home theater! The projector is nothing fancy, an Acer 1150DX, but it's plenty for my needs. It's hooked up to an Aiwa surround sound system and our Comcast On-Demand thingy. I still need to pick up a DVD/VCR combo, but that will probably be a Christmas present.
I'm so thankful that Jen's dad helped out so much. I'm not very handy, so his help was invaluable. We had to build some walls, install a ton of outlets, put in a ceiling, and lots of other fun stuff, so I'd have been lost on my own.
And I'm thankful for Jen's help and patience. She handled a lot of the painting during the day so I could work on other (mostly heavier) things at night. Not to mention cooking for her dad and me all the time! No small task, that. And also thanks to Tom for his brief but valuable help.
Jack seems to be better now. He used to enjoy going downstairs by himself, but from the time we started demolition on the old stuff to the time the new carpet came, he was beside himself. He was really stressed out and didn't even want to come near the basement, alone or with us. As soon as the carpet was installed, he took his toys down and has been having a blast down there ever since! Weird dog.
Anyway, that's what I've been working on for a while now. Hopefully I can resume some regular updates now.
And I'm taking requests for movie night.