This is really good Flash simulation of Mac System 7.1 (click the image for the link).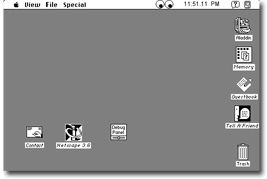 Takes me back to my first Mac, in 1991. Of course, I hadn't upgraded to System 7 yet; I was still using System 6.0.7, which was lean and fast, even on my 8 MHz Macintosh Classic with 2 MB RAM. And a whopping 40 MB hard drive. Man, I thought that computer rocked. I'd stay up late at night using ResEdit to poke through every file I could get my hands on.
But anyway, the simulation is great. Very realistic. I love the Netscape icon on the desktop. I wonder if the simulated extensions folder has a simulated copy of Netscape Defrost in there?